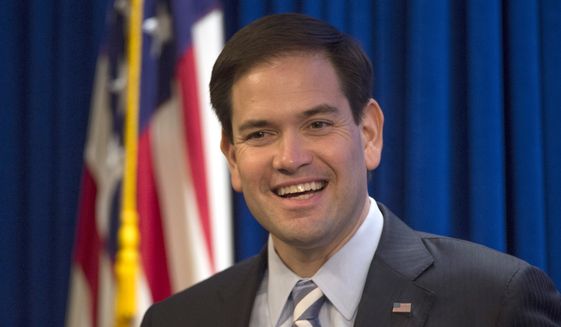 Sen. Marco Rubio
has emerged as the strongest
candidate
in the
GOP
presidential field, topping the rest of his announced and potential rivals for the nomination and running best against top Democratic candidate
Hillary Rodham Clinton
, according to a new Quinnipiac University Poll Thursday.
Mrs. Clinton
still leads
Mr. Rubio
in a national head-to-head match-up, 45 percent to 43 percent, but the 2-point margin is down from the 5-point lead she held over him a month ago in the same survey.
Mr. Rubio
announced his candidacy earlier this month and has shot to the top of the
GOP
field nationally, garnering 15 percent of support among likely
GOP
primary voters — up from just 5 percent support a month ago. He has surmounted Wisconsin Gov. Scott Walker, who was first in the March poll but who slipped to third place in this survey. Former Florida Gov. Jeb Bush, meanwhile, remains in second place, with 13 percent of
GOP
support.
"The youngest member of the
GOP
presidential posse moves to the front of the pack to challenge Hillary Clinton whose position in her own party appears rock solid," said Tim Malloy, assistant director of the poll.